Persephone's Sanctuary
Regular price
Sale price
$26.00 USD
Unit price
per
Sale
Sold out
✨⚡️ The All Father 🔥✨
Odin is one of the most revered and feared gods in Norse mythology. He is the god of war, but also of esoteric wisdom, magic, and poetry. If you're looking for a scent to embody the complex and powerful nature of Odin, look no further than this candle!
The scent of oatmeal stout brings to mind the hearty and robust nature of this god. It is a scent that is both comforting and invigorating, reminding us of the warmth and strength that Odin embodies.
Tobacco smoke is another key element of this candle. It speaks to Odin's love of knowledge and his willingness to go to great lengths to obtain it. The scent of tobacco smoke is rich and complex, with notes of earthiness and spice that evoke a sense of wisdom and experience.
Suede and leather are the final elements of this scent. They speak to Odin's warrior spirit and his love of battle. These scents are rugged and masculine, with a hint of danger and adventure that is sure to appeal to anyone who admires Odin's bravery and strength.
In all, this candle is a fitting tribute to the mighty Odin. It is a complex and intriguing scent that will transport you to the world of Norse mythology and the glory of the Viking age.
The Odin candle is made and packaged with perfect love and intention. This 100% soy based candle contains:
100% organic soy wax for a longer, cleaner burn

A crackling wooden wick to set the vibe
Subtle notes of oatmeal stout, tobacco smoke, suede and leather 
Topped with onyx, agate, juniper, horehound and chamomile 
Eco-Friendly and lead, phthalate, paraffin, & dye free
Reusable tin
4oz burn = 20 hours
8oz burn = 40 hours
Share
View full details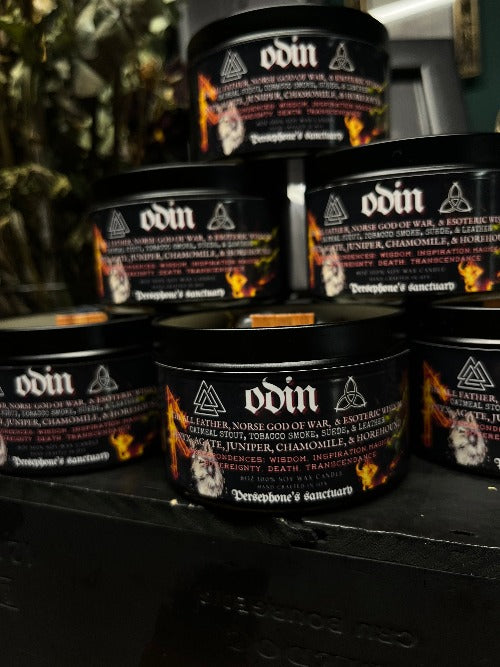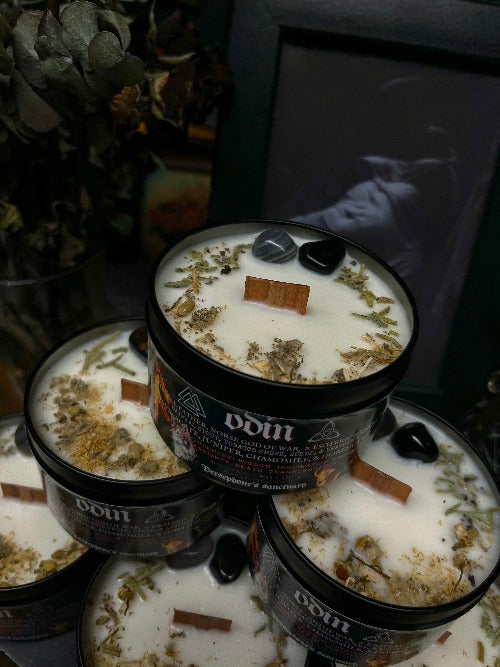 Answer your customers' common questions
Do you sell wholesale?

Yes! please reach out to us via Email perstephones.sanctuary@gmail.com
Do you create custom orders?

Yes! please reach out via Email!
How long is your processing time?

Please give your order 2 weeks to arrive.