Persephone's Sanctuary
Regular price
Sale price
$65.00 USD
Unit price
per
Sale
Sold out
You asked and we listened! 
Behold the wonder of The Devotee Subscription Mystery Box! I will travel the mystical realms to assemble these special boxes, using my favorite tools of divination + intuition to craft something special and 100% personalized every month! 

That being said, these subscriptions are only available to the first 30 Devotees to sign up.  
Anyone purchasing This Devotee Subscription Mystery Box understands:

 This is a monthly subscription and you will be billed accordingly. 
This box is curated with the help of divination.
This box is curated intuitively for every devotee by yours truly. 
Shipping will be added to your total. 
All Mystery Boxes will include a mini reading + an explanation behind the items chosen for you that will be valued at three different price options of $35, $65, $75 retail value. 
Boxes May include:
intention candle

devotional/archetypal candle 

goat's milk soap 


ritual bath soak


ritual body scrub


vintage vessel intention candle


Do you have questions about your subscription?
We'd love to hear from you! Please contact us via email at persephones.sanctuary@gmail.com with the subject line "Subscription box questions" Our team will respond to all emails in the order they are received.
When do the Subscription Boxes Ship?
Subscription boxes ship at the end of each month.
When do I get charged for the subscription?
You will get charged the day you place the order for the subscription box and the same day every month for as long as you enjoy your monthly subscription and decide to keep it.
Is there a cut-off date each month in order to get the subscription box shipped the same month?
Yes, when signing up for the subscription box, you will need to sign up before the 12th in order to have your box shipped by the end of the month.
What happens if I sign up after the 12th of the month? When will I receive the box?
If you miss the cutoff date, your first box will ship at the end of the next month. As a reminder, if you sign up after the 12th, you will be charged twice before getting your first box, that's due to the fact that your first box will ship the last week of the next month. Do not be alarmed, you will always receive a box for each time that you are being charged.
How can I cancel the subscription box?
Login to your account and click on Manage my subscription; there, you will find an option to cancel it. You can also email us at persephones.sanctuary@gmail.com with the subject line "Cancel subscription box." If you choose to send us an email, please include the email address you used to place the order.
If I purchase other items with my subscription box, will I have to wait for them to ship with my box?
Please note: we do not recommend you buy other items on this order. 
We ask that you do so in a separate order from the subscription box to avoid any shipping issues. 
Share
View full details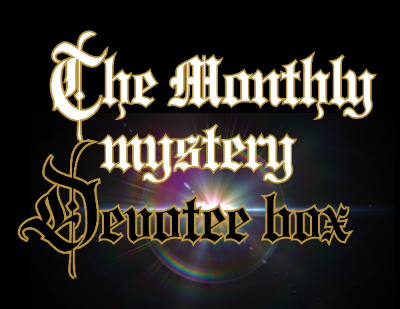 Answer your customers' common questions
Do you sell wholesale?

Yes! please reach out to us via Email perstephones.sanctuary@gmail.com
Do you create custom orders?

Yes! please reach out via Email!
How long is your processing time?

Please give your order 2 weeks to arrive.