Persephone's Sanctuary
Regular price
Sale price
$30.00 USD
Unit price
per
Sale
Sold out
Baba Yaga is an intriguing character from Slavic folklore, known for her mysterious and unpredictable nature. The Baba Yaga candle is a wonderful tribute to this enigmatic figure, featuring a unique blend of scents that capture her magickal little chicken legged hut's essence perfectly.
The fragrance of the Baba Yaga candle is a refreshing blend of birch wood, cedar wood, mint, and oud. The birch wood provides a crisp and fresh scent that is reminiscent of the wilderness, while the cedar adds a warm and woody aroma that is both comforting and grounding. The mint adds a refreshing and invigorating touch to the fragrance, making it perfect for use in any room of your home. Finally, the oud provides a deep and musky undertone that adds complexity and depth to the scent.
This candle is perfect for anyone who loves the outdoors and wants to bring a touch of nature into their home. It's also a great choice for those who are drawn to the mystery and intrigue of Baba Yaga herself, as it captures her essence and personality in a single fragrance. Wit's a 120+  hour burn time, Immerse yourself in the enchanting and mysterious aroma of Baba Yaga.
The Baba Yaga candle is made and packaged with perfect love and intention.
This 100% soy based candle contains:


100% OG soy wax for a longer, cleaner burn with a stronger scent throw

An eco friendly FSC certified crackling wooden wick 

Subtle notes of birch, cedar, mint, oud

Topped with Obsidian, juniper, cedar, mint, and mugwort

Eco-Friendly and lead, phthalate, + paraffin free 

Reusable glass jar 
✨please remove skulls and crystal before burning✨
 
Share
View full details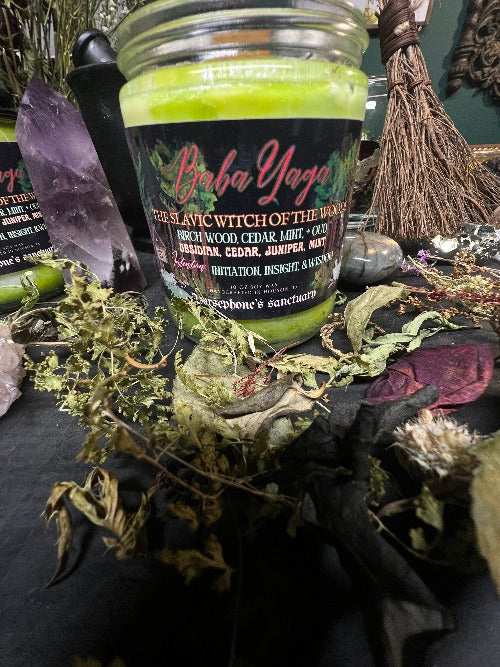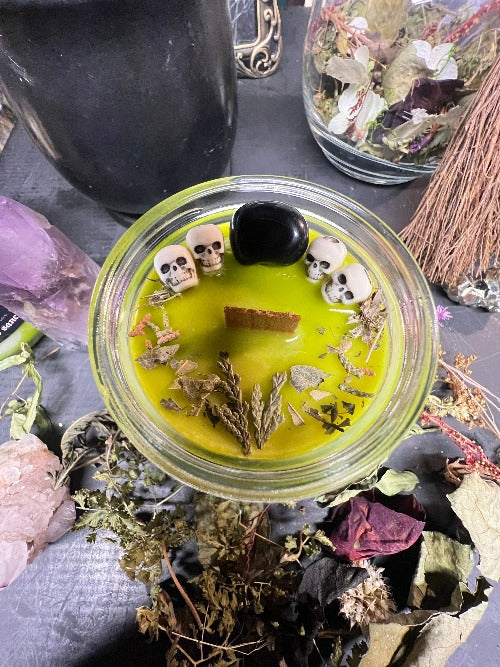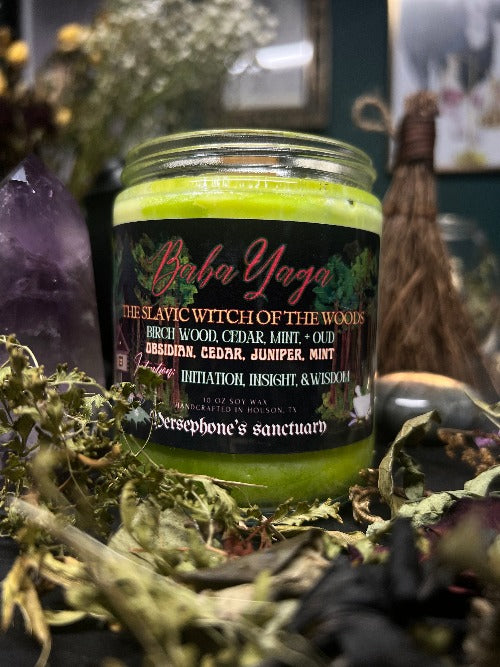 Answer your customers' common questions
Do you sell wholesale?

Yes! please reach out to us via Email perstephones.sanctuary@gmail.com
Do you create custom orders?

Yes! please reach out via Email!
How long is your processing time?

Please give your order 2 weeks to arrive.