Persephone's Sanctuary
Regular price
Sale price
$26.00 USD
Unit price
per
Sale
Sold out
Transform your space into a Goddess Sanctuary with this beautiful Circe candle.
Circe is the Goddess of sorcery and has been identified as the first witch in Greek mythology.
She's known as a powerful enchantress, channeling her magick with her wand but is also highly skilled with herbs and potions.
She was notorious for turning men into swine and for that; we love her.
Circe defies the traditional gender expectation attached to being a woman for another reason. She lives on her island, alone with her tamed beasts, with no father, brother, or husband. Women like her were thought of as irrational and incapable of controlling their sexual impulses, and with time, they began to be called "witches". These women were anomalies in a society based on the patriarchal system. They were perceived as dangerous because they inverted the "natural" order where men command and women obey.
The Circe candle is made and packaged with perfect love and intention. This 100% soy based candle contains:


A crackling wooden wick to set the vibe

100% organic soy wax for a longer, cleaner burn

Subtle notes of amber, bergamot, & cedar

Garnet for courage, confidence, and strength 
Rose for healing and purification 
Thyme for protection and divination 
Yarrow for courage, love, and protection 
Mugwort to enhance divination

Eco-Friendly and lead, phthalate, & paraffin free

Reusable tin

8oz burn = 40 hours

Share
View full details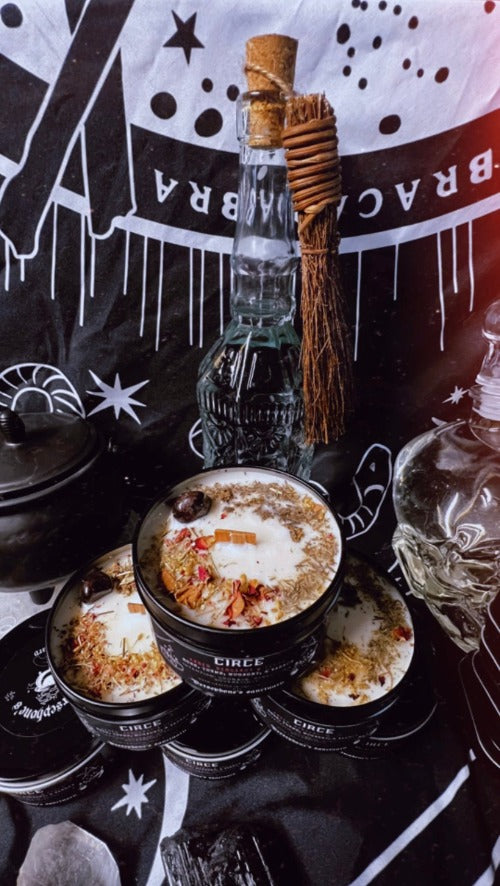 Answer your customers' common questions
Do you sell wholesale?

Yes! please reach out to us via Email perstephones.sanctuary@gmail.com
Do you create custom orders?

Yes! please reach out via Email!
How long is your processing time?

Please give your order 2 weeks to arrive.