Persephone's Sanctuary
Regular price
Sale price
$26.00 USD
Unit price
per
Sale
Sold out
Elevate your self-love rituals with the Belladonna Intention Candle. Infused with intoxicating fragrances, this candle brings peace and joy to your sacred space as you nurture your inner light. Burn it while setting your intentions and manifesting your heartfelt desires.
No belladonna was used in the making of this candle. 


BellaDonna means beautiful woman in Italian and she's also known for being a poisonous and baneful herb. This is my ode to the femme fatales. 

Atropa belladonna is more commonly known as the deadly nightshade and is possibly one of the most famous dangerous plants. It has a long and twisted history of various medicinal, murderous, and cosmetic uses and sometimes plays quite sinister roles in folklore and legends. During the Renaissance, women used the plant in cosmetic rituals to dilate their pupils, making their eyes look bigger and more alluring. 
In antiquity, the plant was associated with the cult of Dionysus, the Greek god of wine and ecstasy, and it was allegedly mixed for a drink that could induce a trance in worshippers. On a more sinister note, it also features in the myth of Odysseus, whose men were - legend has it - poisoned with nightshade and then turned into pigs by the witch Circe.


This 100% soy-based candle contains:
OG soy wax for a longer cleaner burn with a stronger scent throw

A crackling wooden wick to set the vibe

Subtle notes of berries, sandalwood, rose, vanilla, and musk

butterfly pea flower for love, fertility, spirituality, personal power

Hibiscus for attraction, divination, and lust

Lavender for beauty, love, and peace
Eco-Friendly
 no lead, phthalate, or paraffin, in a reusable tin.
Share
View full details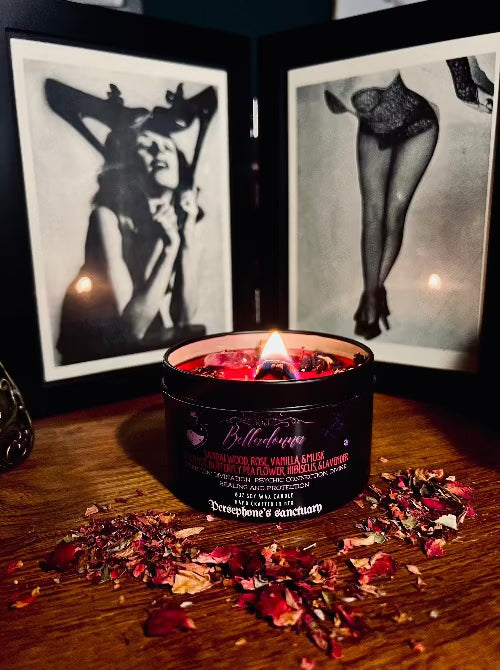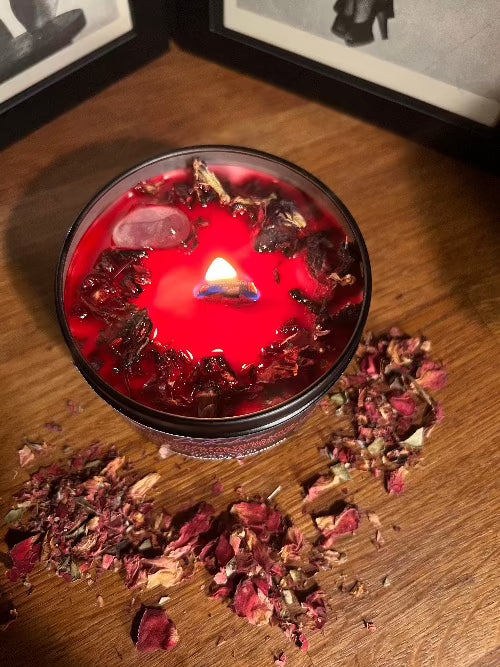 Answer your customers' common questions
Do you sell wholesale?

Yes! please reach out to us via Email perstephones.sanctuary@gmail.com
Do you create custom orders?

Yes! please reach out via Email!
How long is your processing time?

Please give your order 2 weeks to arrive.